Cash Book -three column cash book practice
         The following problem will help you to understand that how to maintain record in Three column cash book.
         The cash book is very widely use in every business, it is important to understand that  how it is maintained in business concerns.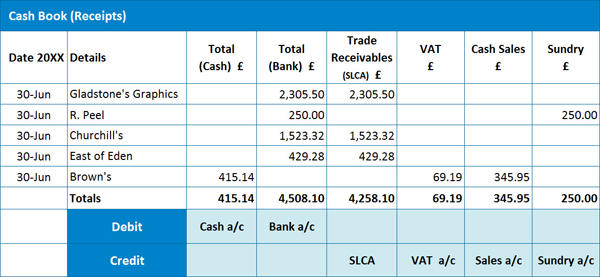 You may also like to Read
Practical Example :
1st March 2014,  1. Cash in hand Rs.1532 and balance at bank Rs.18500.
2. Received from Salman Rs.590 and allowed him discount Rs.10.
3. Paid salaries for the month of February Rs.200.
4. Purchased merchandise payment made by cheque Rs.3200.
8. Paid Bilal&co by cheque Rs.800 discount received Rs.20.
10. Withdrew from bank for office use Rs.400. paid rent in cash Rs.300.
14. Deposited into bank Rs.500.
15. Cash sales Rs.2460.
18. Purchased a motor car for Rs.6500 payment made by cheque.
23. Received a cheque from Salman for Rs.391 discount Rs.9.
25. Paid wages Rs.350.
28. Salman cheque paid into bank.
29. Paid general expenses Rs.360.
31. Bank informed that Salman's cheque has been dishonored.
31. Cash sales Rs.6440.
Solution:
                                                      Haseeb & Co
                                                       Cash Book
                                      For the month of March, 2014
Receipt                                                                                                           Payment
| | | | | | | | | | | | |
| --- | --- | --- | --- | --- | --- | --- | --- | --- | --- | --- | --- |
| Date | Particular | Ref | Discount | Cash | Bank | Date | Particular | Ref | Disc | Cash | Bank |
| 1mar | balance |   |   | 1532 | 18500 | 1 mar | Salaries |   |   | 200 |   |
| 2 | Salman |   | 10 | 59 |   | 4 | Purchases |   |   |   | 3200 |
| 10 | Bank | C |   | 400 |   | 8 | Bilal & co |   | 20 |   | 800 |
| 14 | Cash | C |   |   | 500 | 10 | Cash |   |   |   | 400 |
| 15 | Sales |   |   | 2460 |   | 10 | Rent |   |   | 300 |   |
| 23 | Salman |   |  9 | 391 |   | 14 | Bank |   |   | 500 |   |
| 28 | Cash | C |   |   | 391 | 18 | Motor car |   |   |   | 6500 |
| 31 | Sales |   |   | 6440 |   | 25 | Wages |   |   | 350 |   |
|   |   |   |   |   |   | 28 | Bank |   |   | 391 |   |
|   |   |   |   |   |   | 29 | General exp |   |   | 360 |   |
|   |   |   |   |   |   | 31 | Salman |   |   |   | 391 |
|   |   |   |   |   |   | 31 | Bank charges |   |   |   | 15 |
|   |   |   |   |   |   |   |   |   |   |   |   |
|   |   |   |   |   |   |   |   |   |   |   |   |
|   |   |   |   |   |   |   |   |   |   |   |   |
|   |   |   |   |   |   |   | Balance |   |   | 9181 | 8085 |
|   |   |   |   |   |   |   |   |   |   |   |   |
|   | Total |   | 19 | 11282 | 19391 |   | Total |   | 20 | 11282 | 19391 |