Difference between BBA and B.com.
B.Com (Bachelor of Commerce) or BBA (Bachelor of Business Administration)?
           It's one of the most common educational questions asked frequently. The more traditional B.Com is giving way to BBA as the economy changes. 
As BBA emerges as an important course option to pursue after completing your 2nd year after Matric or O'level, an unfortunate lack of proper information has left a lot of students confused and making misguided decisions. Though the final choice rests with you, here's some information to help clarify your doubts.
These points focus on the main Difference between BBA and B.Com
BBA
The BBA course, a Four-year degree, focuses highly on developing business skills. Theoretical education is backed up with practical experience which may include summer internships, industry visits, presentations and case studies. With an aim to foster future leadership and entrepreneurial ability, the syllabus of the BBA course combines the theory of Management Information Systems,  Basic Accounting, finance, marketing and human resources. 
Eligibility for BBA is less strict than for B.Com. Institutes, in general, will accept anybody who's passed 2 year after matric/ o'level  in any stream with at least a 50% aggregate. 
. 
A BBA degree will secure you an entry-level job just about anywhere, but growth opportunities are going to be limited unless you plan on pursuing an MBA degree from a reputable institute as well. 
This is because the advanced MBA course material will be much easier to handle with the firm fundamentals you've gained from your BBA.
Not all is unwelcoming on the job front though; a trainee or a junior HR assistant job, marketing, HR and finance fields can easily be had. This healthy dose of industry exposure can be greatly empowering you, especially in those top Indian B-Schools where such experience is mandatory. BBA graduates can look forward to jobs in the following industries.
Banking

Business

Insurance

Consultancy

Finance

IT companies

Advertising agencies
B.Com
A two-year degree course, the Bachelor of Commerce or B.Com is a traditional post-class 12 option in Pakistan/ India/ Bangladesh, similar to Bachelor or Science (BSc) or Bachelor of Arts (BA). Available at most colleges/universities, the highly theoretical B.Com syllabus provides an strong loon into the fundamentals of commerce like advance Accounting ,Administration, Finance, Economics, taxation auditing and Industrial Policy. 
Eligibility: 2years after Matric In Mathematics/ sciences is a must for students pursuing B.Com, though the course is open to both science and commerce graduates. 
After B.Com :
   B.Com has proved itself and more. Its solid theoretical grounding is brilliant for careers in finance, or really, just about any numbers related field like taxation, Auditing accountancy and Finance. It's practically mandatory for those looking to pursue CA / ACCA/ICWA /ICMA/ CS. A two-year M.Com (Master of Commerce) from a reputable university after a B.Com further enables you by qualifying you for leadership and state level examinations. Placements out of a B.Com also cater to multiple industries, so getting a job isn't a problem.
Industries you can work in after a B.Com:
Chartered Accountant Firms

Banks

Consultancy firms

Tax Practitioner

Accountant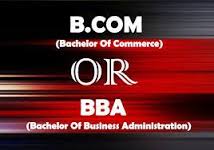 Difference between BBA and B.Com which is better.
If you're good at crunching numbers or want anything to do in the fields of formal finance like CA, then a B.Com degree should be your clear first choice. Though you can pursue an MBA after B.Com, a managerial MBA is better backed up by a BBA background, especially if further supplemented by solid post-undergraduate work experience.
On the other hand, BBA launches you headfirst into a professional career after class 12; it's much more skill specific than a B. Com.