Basic Functions of Accounting:

Functions of Accounting involves the creation of financial records of business transactions, flows of finance, the process of creating wealth in an organization, and the financial position of a business at a particular moment in time.
            The progress & reputation of any business big or small it is build up on sound financial footing. There is a no of parties who are interested in accounting information relating to a business. Financial Accounting communicates financial information of the business concern to various parties. Financial accounting provides information regarding the status of a business & results of its operation.The functions of financial accounting are: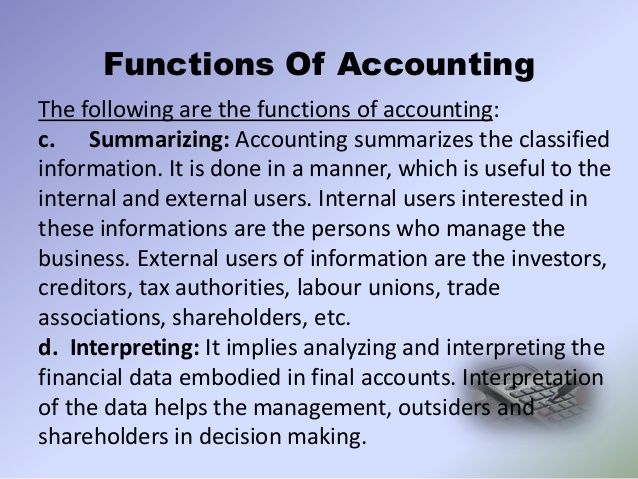 You may also like to read
Functions of Accounting:
Recording Financial Information:
Accounting is an art of recording financial transactions of the business concern. This is the basic function of accounting.
Classification of Data:
The Functions of Accounting is Classification of concern with a systematic analysis of the recorded data with a view to group transactions of one nature is kept at one place. In other words, classification means that data of one nature is kept at one place. This is done in the book is termed as a ledger.
Making Summaries of Classified Data:
Another important function of financial accounting is to make summaries of recorded and classified data. Classified data is used to prepare final accounts that are P&L account and Balance Sheet.
Dealing with Financial Transactions:
Financial Accounting records only financial transactions and events capable of measuring in terms of money transactions which are not financial nature are not recorded in the book of accounts.
Interpretation of Financial Information:
The interpretation of financial information places a very important role in the decision-making process of a business organization. We recorded financial data is interpreted in a manner that the end users as bankers, investors, creditors and share holders can make a meaning full judgment about the overall financial conditions profitable of a business.
Communicating Results:
Accounting is a language for communicative financial as part enterprises these who have an interest and using & interpreting them.