Four Basic Functions of Management
          Basic functions of management is defining as the planning, organizing, classifying, directing/ controlling and motivating the efforts of employees to achieve the organizational goals and objective.
Management is an act of getting people together to achieve desired goal.
          Management in all business and organizational activities is the act of getting people together to accomplish desired goals and objectives using available resources efficiently and effectively.
          Management comprises planning, organizing, staffing, leading or directing, and controlling an organization or effort for the purpose of accomplishing a goal.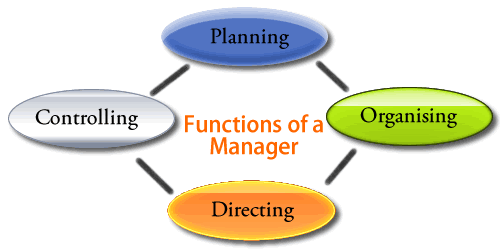 Management operates through various functions of management, such as planning, organizing, staffing, leading/directing, controlling/monitoring, and motivating.
You May also like to Read:
          First function of management is planning. planning is deciding in advance what to do, how to do it, when to do it and who is to do it. it involves  determination of objectives policies and procedures and programs or achieving them. the first steps in planning is to select objectives and then to determine policies, procedures and programs under which the desired objectives to be achieved . planning requires a great amount of decision making on the part of a manager. it needs an ability to force and skill to control the conditions suiting the particular situation. in case if he cannot plan properly he can never be a successful manager.
planning helps to wards confusion, uncertainties, risks , wastage etc
Deciding what needs to happen in the future (today, next week, next month, next year, over the next five years, etc.) and generating plans for action.
        Second function of Management is Organizing means by which the management coordinates man power, money machinery, and materials for the achievement of goals . it includes determination of activities, grouping of these activities into department assignment of jobs to officers, delegation of authority to carry them out , and provision for coordination of activities and information in the organization's structure.
identification of activities 

classification of grouping of activities

assignment of duties 

delegation of authority
 Implementing a pattern of relationships among workers and making optimum use of the resources required to enable the successful carrying out of plans.  
           Organizing staff means the selection of right person for each job so that the objective is achieved in time with maximum efficiency. it therefore, involves selecting candidates for different positions, training evaluation promoting and compensating. Job analysis, recruitment, and hiring for appropriate jobs is important function of management.
recruitment ,selection and placement 

training & development of staff

remuneration of staff

performance appraisal of staff

promotion and transfer of staff
         The third function of management  is controlling or Directing. controlling means checking to unify the efforts of subordinates and workers.or  Checking the progress against plans  to achieve objectives in a cooperative manner. if the organizations work efficiently  the management at all levels must aim at effective coordination. the coordination among different units of organization can be achieved by proper motivation, sound and efficient leadership.
the remedial measures are take to bring business operation into line with the plans, if the plan is found unrealistic then the performance standard is established at a lower level. thus things are controlled by controlling what people do. 
establishment of standard performance 

measurement of actual performance 

comparison of actual performance  performance with standard performance and find out deviation.
Leading: 
        The fourth function of management is Leading also called Directing. leading means issue timely instruction  to enable work fore o proceed to their work efficiently and smoothly without wasting their time in waiting for instructions or directions. guiding and supervising in such as such a manner that workers may not feel any snag or loophole in their work position.
         Directing is just like motivating and teaching subordinate to take interest and produce effectively because without motivation, employees cannot work effectively. If motivation does not take place in an organization, then employees may not contribute to the other functions (which are usually set by top-level management) it involves involves order instruction, orientation, guidance  and supervision of work of the group  it also requires quality of leadership on the part of the manager and ability to communicate and interpret the policies to individuals working in the group.
 supervision

motivation

leadership

communication
          Determining what needs to be done in a situation and getting people to do it.