Branches of accounting mean that the types associate with accounting, we say that fields of accounting are the branches of accounting.
Some of the main branches of accounting are explained as under.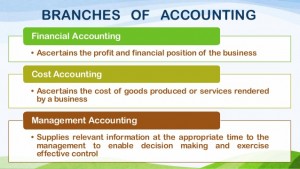 Main Branches of Accounting
1.Financial Accounting:
                This  accounting field  concerns with general accounting system.It is engaged in recording the business transaction in books and preparation of periodical reports for managers and general public.
 2.Cost Accounting:
The another accounting field is cost accounting, main objective of this branch of accounting is to control the cost of production and distribution.
It checks the efficiency of producing setting and administrative department by applying actual and predetermined cost techniques. It also show effects on cost with changing in the volume of production and sale.
You may also like to read
3.Management Accounting:
This  accounting field mainly concerns with the selection of best among various alternative.It uses the techniques of historical. estimated and actual data as a device toward positive change.
4.Government Accounting:
It is the method of recording the financial transaction of the central and provincial government .It keeps the record of expenditures,taxes, revenues and budget of various government department.
It provide information with regard to financial aspect of public administration and activities.
Auditing is also included  in accounting field.It is the examination of the accounting record.The purpose of examination is to check the fairness and accuracy of the accounting records and its reconciliation with the prescribed policies and procedure.