What is an Invoice?
Invoice is a document which is sent by vendor to buyer after selling the goods. Vendor writes the descriptions of selling goods its quantity, rate, value of sold goods and other terms of payment. This invoice is useful document for both seller and buyer.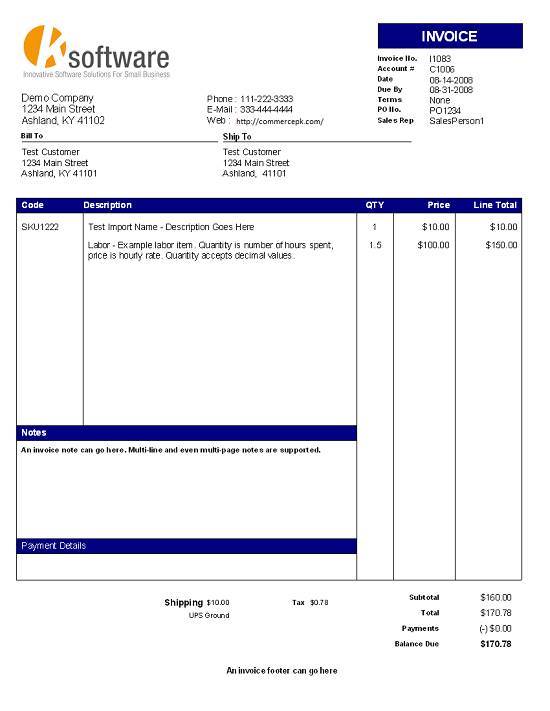 You may also like to Read:
Followings are main content of Invoice:
Name and address of Vendor in the Header area.

Name and address of buyer after the header

Date of Invoice and S.No.

Date and number of purchase order by buyer.

Quantity of sending goods.

Per Unit price of goods sold.

Total Price of Products.

Tax Payments like GST ,FED and VAT

Discount and allowance.

Total payable amount by buyer of goods

Expenses on delivered Products.

Terms of sales.

Signature of vendor or its agent.

& O. E. ( Errors and omissions excepted )
What Should An Invoice Include?
Invoices differ depending on who is sending them. Invoices from service providers such as suppliers typically include the following information.
"Invoice". This is placed at the top of the page as the title of the document. Or you can say it's a header of the sheet.
An invoice number. Every invoice you send should have a different The easiest approach is to start with invoice number one for the first invoice you send out, and work up from there.
Details of the item or service provided. This includes the details of the item or services provided to client and client can see what they're paying for.
Sending & delivered date: sending date is the invoice was sent and the date the product or service was delivered.


For example, as a supplier I include the date my supplies was accepted for delivering, or the date it was delivered, depending on what my customer prefers.

The name and contact information of the seller or service provider.

The name and contact information of the buyer.
Details of costs. What were the different item quantity you delivered to complete an order, and how much did each item cost? Optionally, you can list your per unit cost, and the time you spent on each unit.
The total amount due. This figure is usually prominently displayed on the invoice, as it is the most important part of the invoice.
Details of Payment. Such as your bank account or payoneer /payza/paypal & other online payment method's details.
Payment Due date , details of late payment fees. Late payment fees boost your clients to pay what they owe quickly.
What is an invoice used for ?
An invoice is a document sent by a business to a customer/client representing an responsibility to pay for goods or services. The primary purpose of invoice is to interconnect the requirement to pay for the goods. The other is to record the transaction as an accounts receivable in its accounting system until the bill is paid.
What is an Electronic Invoice:
After Internet revolution, there is no need of printed invoice, it is also called online invoice or
E-invoice. Some of accounting software makes automatically the invoices and it can be easily delivered to buyer's email address. Microsoft ms word 10 provides the facility of invoice. You can choose some of latest design by just click new in ms word and then click invoice and then download. 
What is the difference between invoice and Receipt?
Invoice Vs Receipt:
There is a difference between invoice and receipt.
Invoice is that note which is used for informing customer about his purchased goods and payable amount.
A receipt is an acknowledgement of amounts paid for certain goods and services. Business-to-business providers often let customers make inventory and supply purchases on an account. If the buyer needs items but does not have the cash to pay, he might say, "Bill me later," or "Send me the invoice."
Many companies have electronic accounting systems. When an invoice is prepared, the stock sold is drawn from the current amount showing in stock. The invoiced amount is recorded as accounts receivable. While some companies treat an invoiced amount as revenue, it is possible a client may not pay the bill. With an invoice, the company has proof when it records a "bad debt," which removes the invoiced amount from revenue and reduces taxes.
The purchasing company needs the invoice to update its accounting records for accounts payable. This account recognizes the amount of goods purchased but not yet paid for; companies typically include the invoice when paying for goods to ensure proper recording of the payment.
Receipt is that note which is proof of payment by customer to seller of goods.
Sales vs Purchase Invoice:
Sometime it looks confusing but its simple Both sale & purchase invoice are prepared by the supplier of the goods or services and detail the amount of payment being requested. The supplier calls it a sales invoice, the customer calls it a purchase invoice.
How to make an Invoice:
Some business used pre-printed invoice letter pad to make invoice for their customer/client while some use Ms-word & Ms.Excel to draw invoice, now a day it is very easy to make invoice in Ms.word & excel simple go to new temp and write in search box "Invoice" and you will see a pre-design temp will be available to you on single click, select any one template and edit by putting your information and make print.
If you want to learn more about What is an invoice kindly Visit
Downloads: