Chart of Accounts Definition:
Chart of Accounts is a listing of all accounts used in the general ledger, usually organized in order by account number. The accounts are usually numeric, but can also be alphabetic or alphanumeric. The account numbering system is used by the accounting software to aggregate information into an entity's financial statements.
Chart of Accounts :
       It are usually listed in order of their appearance in the financial statements, starting with the balance sheet and continuing with the income statement. Thus, the chart  begins with cash, proceeds through liabilities and shareholders' equity, and then continues with accounts for revenues and then expenses.            
         Many organizations construction their chart of accounts so that expense information is separately compiled by department; thus, the sales department, engineering department, and accounting department all have the same set of expense accounts.

You may also like to Read:
Chart of Acounts Example:
The following accounts found in the chart of account`s are as follow;
Assets:
Cash

Accounts Receivable

Marketable Securities

Prepaid Expenses

Fixed Assets

Inventory

Accumulated

Depreciation

Other Assets
Liabilities:
Accounts Payable

Accrued Liabilities

Wages Payable

Taxes Payable

Notes Payable

Stockholders' Equity
Common Stock
Retained Earnings
Revenue:
Sales returns and allowances
Expenses:
Cost of Goods Sold

Advertising Expense

Bank Fees

Depreciation Expense

Payroll Tax Expense

Rent Expense

Supplies Expense

Utilities Expense

Wages Expense

Other Expenses
Chart of Accounts Best Practices:
      The following points can improve the CoA concept for a company:
Consistency: It is of some importance to initially create a chart of accounts that is unlikely to change for several years, so that you can compare the results in the same account over a multi-year period. If you start with a small number of accounts and then gradually expand the number of accounts over time, it becomes increasingly difficult to obtain comparable financial information for more than the past year.
       Lock down. Do not allow subsidiaries to change the standard chart of account without a very good reason, since having many versions in use makes it more difficult to consolidate the results of the business.
         If you acquire another company, a key task is shifting the acquiree's chart of accounts into the parent company's chart of accounts, so that you can present consolidated financial results. This process is known as mapping the acquiree's information into the parent's chart of accounts.
Chart of Accounts Numbering:
While setting up a chart of accounts a numbering system for a chart of accounts is prescribed by gaap. A number is also generated by accounting software or Enterprise Resource Planning (ERP).
It's tougher, but maybe more useful to your business, to choose your own numbering  system for account numbers instead of using Quick Books to choose account numbers for you.
Open Excel spreadsheet or paper list of account numbers, and enter your own account number in the Number field when setting up the account.
Now insert first two numbers e.g 1001, 1002 then select these two cells and drag it down to insert automatically number for you , now in the next column write account name parallel to each account number.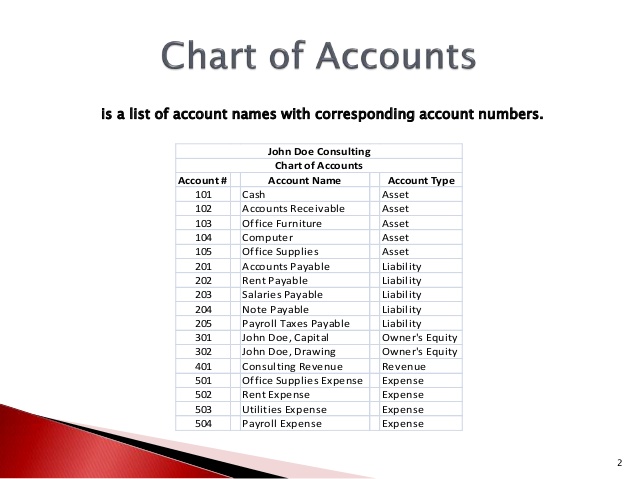 When choosing account numbers, keep in mind that any financial statements or reports that you want organized by account name are now going to be organized by account number.
If you want to learn more about Standard Chart of Accounts you can Visit:
Downloads:
Chart of Accounts Template