Partnership Deed: 
Partnership deed is a legal document holding an agreement that describes the rights and duties of each partner joining partnership business. The partnership deed is designed to avoid costly disputes and litigation among business partners.
Below I have shared some partnership deed formats in Word & pdf format you can pick one for your business contracts
Partnership Deed Meaning:
The historical experiences of partnership firms show that there are disagreements among partners over many things and these results in the termination of the firm. If the areas of dispute or clash are marked earlier and a clear understanding is reached, then the business can run smoothly. So, partnership deed or agreement is a document which is prepared to explain important points so that the chances of the dispute are minimized. Even if there is a dispute it helps in an easier settlement. So, written deed should be preferred.
Importance of Partnership Deed
It has been observed that partner start bickering and quarreling after the firm has worked for some time. it is, therefore, advisable that the articles of partnership should be drawn up through the lawyer. a partnership deed on stamp papers is considered to be valid on the court against any dispute. the importance of partnership agreement can be judged from the following points.
It forms the basis of formation of the partnership.

It defines the mutual rights, duties, and liabilities of the partners.

It helps in minimizing the areas of disputes among the partners.

It serves as the guidepost for the conduct of firms business.
The deed may contain any matters relating to the regulation of partnership but all provisions in the deed should be within the limits of Indian Partnerships Act, 1932, however,  it should contain the following clause:
You may also like to Read:
The person who is going to start partnership business is seeking for 'what information might be contained in a deed of partnership' or what is included in a deed of partnership the following below and details list that contained by deed of partnership.
How to create partnership deed:
The procedure to make a partnership deed is simple. A partnership agreement may be written or oral. But the partially oral agreement doesn't have any worth for tax purposes and therefore the partnership agreement should be in writing. the following characteristic/ contents are mention in partnership deed.
Essential Contents of a Partnership Deed:
The deed of partnership contains the following contents;
Name of the Business / Choosing a Partnership Firm Name

Location of the Business

Name and Address of Partners

Nature of Firm's Business

Duration of Partnership

Partners' Capitals

Interest on Capital

Drawing and Interest rate

Division of Profit/profit sharing ration

Partners' Salary and Commission

Rights and Duties of Partners

Admission and Retirement of Partners

Death of a Partner

Valuation of Goodwill

Revaluation of Assets and Liabilities

Accounts and Audit

Dissolution of Partnership

Arbitration in case of disputes among partners

Arrangements to be followed in case a partner become insolvent

Salary, if any payable to the partners for managing the firm

The method of preparing accounts and arrangement for audit.

The operation of banks account.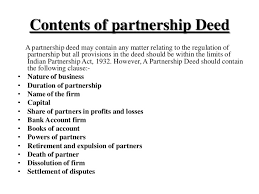 The above item is not the final list of clauses of partnership deed any clauses mutually agreed to by the partners can be included in the deed of partnership. if the deed is silent on any point, then the provisions of Partnership Act of 1932, will apply. This is all that information might be contained in a deed of partnership.
Advantages of partnership deed:
The benefits of the partnership deed are as follow;
The written deed have more benefits than oral deed.

management and control of the business

clear capital contributions

No fight between/ among the partner on profit and loss allocation 
Disadvantages of Partnership deed:
Along with benefits, it has disadvantages too;
Changes in partnership after making & sign by all partners are difficult, you need to follow the lengthy legal procedure.

costly
Change in Deed of Partnership:
There is a proper and legal procedure if a partners want to make changes in a deed of Partnership.
Dissolution of Deed:
This means that how to dissolve the partnership agreement. when partnership business is going to an end.
Downloads:
Partnership Deed agreement template

stamp paper for partnership deed
this article also is written very well by sfgate
If I got some positive comments on my blog then I will write a new post on How to register a Partnership Firm in Asian Countries like Pakistan, India & Bangladesh.
If you like this article kindly share it on your FB/twitter/google plus profile